Habits and Your Health:
Dr Tamsin Astor blends her scientific background and awareness (PhD in cognitive neuroscience) with her Yoga, Ayurveda, Meditation & Coaching training to give a unique approach to mastering your daily habits. Using tools from Health and Executive coaching, Tamsin provides a plan to help you navigate from a multi-tasking, low energy, time-deprived existence to one of abundance, nourishment and fun!
Regain your power, reduce your stress: Feeling overwhelmed, stressed and that there isn't enough time or energy to get everything done? Follow the steps in Force of Habit: Unleash Your Power Through Healthy Habits to create a life of joy and freedom by making connections in your daily habits, thereby reducing your decisions. Tamsin lays out a simple plan to master your key habits in your two key relationships: with yourself & others.
The "Shoulds" & why they don't serve you
Motivation – different theories to understand it
Stress – what it's secretly doing to you and why we need a little "good" stress
Why there isn't one definition of "healthy" and a new model for understanding health
A new way of thinking about everyday habits and how you need to change them
How to think about your relationship with yourself – are you falling into learned helplessness?
Free up time: And what about your relationships with others – are you cultivating enablers or supporters? This book gives you a step-by-step guide to organizing your life. How? By creating boundaries and daily rituals so you have the time for what you need to do and what you want to do! By establishing healthy habits, you can unleash your true power by freeing up your time from the thousands of microdecisions you make on a day-to-day basis.
By combining these daily habits with a bigger frame – your big why – the reasons behind why you want to create healthy habits – you will continually refocus and refine your daily habits and become a force of nature.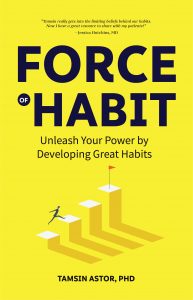 ORDER The Force of Habit: Unleash Your Power by Developing Great Habits: