Podcasts
In this episode Debbie interviewed Dr Tamsin Astor about habits as they pertained to helping moms developing good habits. She shares her very compelling and heart-wrenching story which lead her to the world of habits and ultimately to become the Chief Habit Scientist! She shares the importance of prioritizing yourself, mindset, habits and a bigger vision for your life and how when you start to work on yourself and stop shoulding on yourself – or letting others should on you – your life can be fabulous!
Watch the interview HERE!

---
"In this second episode I talk to Tamsin Astor PhD who talks about dealing with her youngest son being diagnosed at the age of just 2 with Burkitt's Lymphoma, which is a cancer of the lymphatic system. She talks about the struggle to get her concerns heard and recognized by the doctors, hearing the diagnosis and dealing with the whole treatment process and being strong for her son, her family and herself. She talks later about her divorce and how now, ten years on her son is clear and healthy and how they are planning a ten year celebration of him being clear. It's a highly emotive story, hugely inspirational and I hope you get as much from it as I have."
LISTEN HERE!
Simon Maryan is a mentalist, psychologist, author and speaker and run his Mind-Body Coaching business in Aberdeenshire, UK, offering coaching, psychological change as well as physical and nutritional coaching. His main focus is working with veterans and serving military personnel in dealing with trauma, Post Traumatic Stress and the various associated symptoms and conditions. This involves working with certain military charities in the UK.
---
Tamsin Astor, PhD is your Chief Habit Scientist, helping you organize your habits so you have time for what you want and need and time for fun. Tamsin helps her clients create connections between their daily habits to reduce their decisions and create more time and energy for fun! 
In this episode we discuss: 
Why habits are so important.

Why deeply engrained habits are hard to get rid of and what you should do instead.

How to use routine to create freedom.

The 3 steps to a habit.

The brain science behind going to sleep by 10pm.  
LISTEN HERE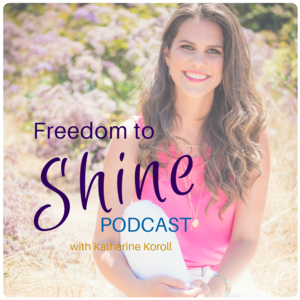 Katherine is a life coach with over 15 years of leadership, management, coaching, mentoring and teaching experience. Highly intuitive with a unique skill for bringing everything together in a simple and easy way, Katherine works with her clients to break free from their limitations, level up, and live their lives with the freedom of happiness and fulfillment. 
---
In this episode we discuss:
Intuition – the gut is our second brain. How can we learn to tap into our "gut feeling"?
The energy of those around you, who are you letting into your energetic field?
How do we navigate the shoulds?

LISTEN HERE
Founder of Life Force Connection, Abby E. Gooch started her business when she was 19 yrs. old shortly after she felt called to leave her scholarship at a liberal arts college in the Los Angeles area to follow her intuition which was guiding her to inspire men, women and children to cultivate their inner knowing and heal and create the lives they desired. Within six months of transitioning from traditional college into her Holistic studies, Abby opened her first office in San Diego, CA where she started her private practice.
Drama Free Healthy Living with Jess Cording
Episode 40: Transformation Tips From Chief Habit Scientist Tamsin Astor 
In today's episode I'm chatting with Tamsin Astor whose life and career is emblematic of the power of resilience and perseverance. Tamsin is a Chief Habit Scientist , speaker, and author whose work focuses on helping her clients transform their mindset and organize their habits so that they have time to do what they need and want in life.
Tamsin offers so many exceptional insights into living a life with intention and purpose, but here are some key takeaways:
Changing your habits can change your life; there's so much power in what we do every day, so it's important to make our daily choices count.  
Rituals and routines are foundational to our well being.  
Meditation is very powerful, as it allows us to become friends with ourselves and our mind.  
Healthy living is about being in balance and using rituals to help find the fun in life.  
Radio Interviews
Grace Roberts, Wave FM 107.3
Dr Tamsin Astor talks with Grace Roberts about her self-published book, which eventually was re-formatted and published by Mango as  Force of Habit: Unleash Your Power by Developing Great Habits

---
Randi Fine's – A Fine Time for Healing, Blog Talk Radio
Feeling overwhelmed, stressed, and like there isn't enough time or energy to get everything done? Today's special guest Dr. Tamsin Astor, the author of the book Force of Habit: Unleash Your Power Through Healthy Habits.teaches how to create a life of joy and freedom by making connections in your daily habits, thereby reducing your decisions.
Dr. Astor utilizes a broad array of both Eastern and Western skills from her extensive training. She blends her scientific background and awareness with her Yoga, Ayurveda, Meditation & Coaching training to give a unique approach to mastering your daily habits and gaining control over your day. Using tools from Health and Executive Coaching, Dr. Astor provides a plan to help you navigate from a multi-tasking, low energy, time-deprived existence to one of abundance, nourishment and fun! You will learn about:the "Shoulds" and why they don't serve you; what stress is secretly doing to you; a new way of thinking about everyday habits and how you need to change them; and how to think about your relationship with yourself – are you falling into learned helplessness.
Tamsin Astor, PhD helps busy professionals organize themselves so they have time for what they need and want – and time for fun. She is your Chief Habit Scientist, wrangling your habits around sleep, exercise and eating through a lens of mindfulness and relationship management.
LISTEN HERE